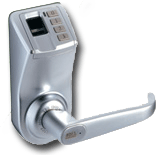 This new low-cost fingerprint doorlock has attractive modern design that would complement any office setting. The entire outer shell of this lock unit is solid metal construction for rugged durable long lasting operation unlike other similar but inferior lock design which uses some low-cost plastic parts with metallic paint for their outer construction. The surface of this lock has an advanced cast-steel construction with stainless steel satin finish. The lock shell and the knob lever is made out of corrosion resistance zinc-alloy so that it is highly durable and the appearance never fade. The electronics inside is sealed with epoxy which prevent moisture and corrosion and providing long lasting, troublefree operation.
This Advanced Digital Electronic Lock can be opened with either fingerprint and/or PIN with combination keypad. A concealed mechanical key can be used to override the doorlock mechanism in case of emergency. The doorlock can also be set to normally open status for meetings. The durable construction of this lock made it suitable for use in both indoor and outdoor environment. These locks are certified with ISO 9001 certification for their quality construction.
The ADEL9 series come in two distinct and attractive designs. The ADEL9-1 and ADEL9-2 are shown below. Both units provide the same performance and same durable construction design.
Please select either the Left-Handed or the Right-Handed for the doorlock. You might also want to specify the door thickness in the "Special Order Notes" section at the bottom of the Checkout page to ensure that we will provide you a doorlock with your exact specifications. For international orders outside United States, please contact us through email at: sales@biovericom.com for shipping cost and order instruction.
Low Price: $298.95



Unlocking Methods: Fingerprint ,PIN/code or Mechanical Key.
Concealed mechanical override for emergency.
Tubular latch. Easy to install and simple to operate .
Fingerprint registration can be directly erase from the lock.
Can enroll up to 138 user's fingerprints.
Integrated cast steel construction with stainless steel finish.
Can be set to normally open status for meeting .
No external wiring required.
Easy battery replacement .
Operates on 4 AA standard alkaline batteries.
Outside lever free to rotate in locked mode.
Simple & easy installation.