Our BioFlash USB flash drive is bundled with additional software to help you manage and further protect your files. The following programs are included with all of our BioFlash drives:
BioFlash Service Utilities
This service utilities provides automatic file encryption and compression within the BioFlash drive. Once the service utilities are installed on your computer, a special folder is created. Any files that is moved into this directory will automatically be compressed and encrypted. To gain access to these files, you will need to move them out of the special folder or open them directly within the special folder; but the fingerprint authentication will be required before any operation is performed.
The service utilities also provides a ScreenSaver utility to protect your computer while you are away from your computer. Your fingerprint authentication is required to deactivate the ScreenSaver utility.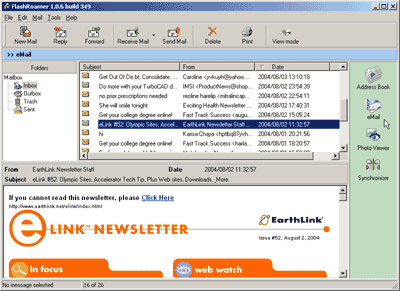 FlashRoamer Application
This is a complete compact, about 3.5MB, self-contained application program for email, contact list, photo-viewer and file synchronization between your BioFlash and your desktop. Once this application program is installed on your BioFlash drive, it can be run on any Windows computer system directly from the drive. All email, address and contact list are stored on the BioFlash drive directly. So now, all of your confidential information automatically, safely and securely protected.
This software also provides file synchronization between your BioFlash and your desktop. In case you lose your BioFlash drive during travels or meetings, you will still have access to all of your files on your desktop computer and knowing that your lost drive will not reveal any private and confidential information to other unauthorized users.
Format & Recovery Utility
In case your BioFlash file directory structure was inadvertently corrupted, this utility provides emergency reformatting of BioFlash drive back to the original manufacturer's default setting.
We have different versions of the USB drive ranging from 128MB up to 1GB for your different storage needs and requirements.